Grocery shopping seems like the last place you'd be living life online, but new mobile apps are making it easier than ever to pick a few things up from the store.
Mobile shopping inside the store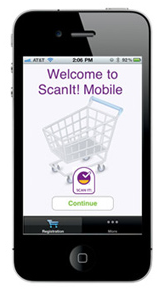 Stop & Shop's ScanIt! mobile app (iPhone & Android) lets you scan and check out using your smartphone, expanding the existing service using a store-provided scanner. With the smartphone version, you need to type in your Stop & Shop loyalty card number when you set up the app. Then, show up at the store, grab a basket or cart, and just start walking around. When you see an item you want, take a picture of the barcode with your smartphone and it's automatically added to your virtual cart. Put the item in your real cart and continue until you've got everything on your list.
While you're walking around, you'll also get notifications of special deals available for items nearby on the shelves. Yes, it can feel a little creepy, but it might also give you a reason to actually try that new mustard that looked so tasty while you were grabbing the relish next to it.
To check out, go to a self-service checkout station and scan another barcode there. The app sends your virtual cart over to the checkout station, lets you add any items that didn't have barcodes or need weighing, and then finish up and pay. You never have to take the items out of your basket or cart, which is a real time-saver for big trips.
Mobile shopping outside the store
Most supermarkets now have some kind of online shopping service, either for delivery or to pick up in the store. You visit the store's website, place your order, pay for it with a credit card, then set up a time to get it.
Earlier this year, Peapod & Giant Foods combined the mobile scanning and online purchasing tools for an ad campaign in Philadelphia. At commuter rail stops and bus stops, they put up billboard ads that featured photos of popular items, with QR-style barcodes next to each one. While standing and waiting for your train, you scan the items you need and set up a time to have them delivered to your home or office. Simple, and brilliant.
In May, Peapod took it one step further and opened an entire virtual store in an unused subway tunnel in Chicago. I'm sure they got that idea from international supermarket company Tesco's virtual store in a major downtown subway station in South Korea. Rather than just a few items, entire sections of the store are available to scan and buy.
List-making and coupon-information only
Peapod / Stop & Shop seem to be the only store in the US offering a full mobile shopping experience, but other stores have apps too. These apps send you weekly or daily deals, let you create a shopping list, and sometimes put that list in the order you'd find the items as you walk around the store. Definitely useful, but not quite as cool as doing the whole thing online.
How Is It Useful?
Stop & Shop's ScanIt! streamlines the entire shopping experience by making you touch every item just once: you take it off the shelf, scan it, put it in a bag in your cart, and you're done. One of the biggest hassles of grocery shopping – loading, unloading, and reloading a cart – is reduced from three steps to one, saving you lots of time on each trip.
Using your mobile device to order grocery deliveries lets you do that wherever you are, whenever you have time, not just when you're sitting in front of a computer. Imagine combining two errands: waiting at the doctor's office, you set up your grocery delivery for the following night. Especially if you often buy the same products, app-based online shopping is a breeze.
The other mobile apps still help speed up shopping by letting you create your entire shopping list ahead of time (maybe in that same doctor's office), so that when you get to the store you're ready to go. All that, plus the automatic notices of coupons and weekly specials, make for a much easier time all around.
Help & Resources