Welcome back to Learning for Life Online, the Boston Public Library's self-directed learning program about online life. We're starting up again after a brief hiatus by getting back to basics.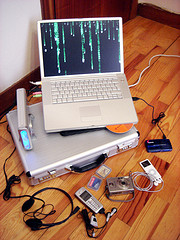 When you're trying to live life online, it's important to know how to play with a new online tool. It's also important to know how to start using and playing with the gadgets that connect us to those online tools. Some gadgets are so easy to use that it's no problem, and others require a little more work.
Here are some suggestions for getting started with a brand new gadget:
Read the manual, but don't try to read it all at once. Start with the list of What's in the Box and the Getting Started or Quick Start sections. Go slowly, and look up any words that aren't familiar. Read as much of the manual as you can before you turn your gadget on.
Push the buttons Follow along with the manual, step by step. Learn what each button and setting does when you press it, one by one.
Do the 'driving' yourself. If you let another family member or friend 'set up' your gadget for you, you won't understand how it works. Try to at least get the basics, so you can troubleshoot any problems yourself. Do ask someone to go through it with you, if that helps, but push your own buttons.
Be patient with yourself. You're learning a new skill and a new tool. Don't rush, and take breaks when you need to. The more time you take now, the more you'll know from now on.
Have fun! This isn't school, and you aren't getting graded. Learning how a new gadget works gives you the freedom to play, and gives you the power to make it do what you want it to (rather than the other way around).
Remember, like online tools, similar gadgets often work in similar ways. The Power button always turns it on and off. The volume controls will be the same everywhere, as will Play and Stop. Menu button will almost always get you back to your main menu of choices. Yes, some of these gadgets have a lot of buttons, but the basics tend to look and work the same way on all of them. If you knew how to operate a cassette Walkman, an iPod or other mp3 player will feel very similar.
Help & Resources
There are too many kinds of gadgets out there to list, so here's a few good ideas for finding help about your gadget online:
Go straight to the company's website. Type the full website address in at the top of your browser and hit Enter. Then, look for a link on that says Product Information, Support, Help, or Troubleshooting. Click on it, read the screen, and click the appropriate link.
Use a search engine to find information. Type in the full name of the gadget and the word 'support' or 'help,' then click Search. Lots of results will come up – look for ones from the company that made your gadget first, then try others. The first page of results will have the most popular links, which might be most helpful (if they've helped other people).
Ask someone else who owns one. A friend, a family member, someone you know from work or school. Even if they don't know the answer to your question, the two of you might be able to sit down together and figure it out. That answer might be useful to them one day, too.
Use a search engine to find discussion forums about your gadget; search for the name of your gadget the word 'forum' or 'discussion.' This is a little more advanced, usually, because the conversations on these forums are often technical.