When you're using online tools, you almost always have to create an account by entering your email address, creating a username, and choosing a password. Sometimes it will ask for more information, but typically, you sign up and then you're off and running.
I suggest that before you start posting or adding status updates, take a little while to look at and understand the settings for your new account. Last week we looked at all of Facebook's security settings; this week, let's look at basic account settings for any type of tool.
Kinds of Account Settings
Account settings vary depending on what tool you're using. Facebook will have different settings than Gmail or Pinterest because each tool does different things. The settings on your oven aren't the same as settings on the television, right? Same thing with online tools.
However, there are some settings that nearly every tool uses:
Account/General – choose or change the username, email address, or other basic settings for the account
Password – go here to change or recover your password
Profile – see and update what information your public profile contains; make your profile private
Profile – see and update what information your public profile contains; make your profile private
Notifications – choose to receive an email or text message when something happens using that tool
Theme/Design – pick the colors and design for your account
Security – questions the service will use to make sure you're you if your account is broken into
If there are more account settings than these, take your time and click on each setting area to read through them and understand them. You might be amazed at how much easier it is to use the tool or service once you've customized the settings to work best for you!
Finding Account Settings
Sometimes, the hardest part about changing account settings is finding them! For most tools, whatever you click on to get to the settings area is in the upper right part of the screen. However, what it says or looks like can be very different from tool to tool.

Occasionally, the link will just say Settings. (The BPL's online catalog)
Other times, you might have to click on your name in the upper right. (Google)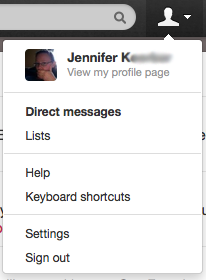 Occasionally, you'll see a little shape of a person up there. (Twitter)
You might also find an upside-down triangle, an icon that looks like a gear, or both. (Facebook)

By using icons instead of words, the tool is being more friendly to their users around the world.
Changing Account Settings
This is probably the easiest part. 99% of the time, changing a settings is as easy as clicking on Edit, typing something in or ticking/unticking a checkbox, and then clicking on Save. For some more advanced settings, you might need to find and enter information from some other account somewhere, but for the most part it's click and save.











For help with the settings for the online tool you're using, the best resource is the Help or Support section for that tool. Next week on Learning for Life Online, we'll look at how to find and use the Help and Support sections for many online tools, and how to find answers to your questions elsewhere as well.