Exciting news! This May, Michael Sauers and I have a book coming from Rowman & Littlefield. It's based on our work talking about and training on emerging technologies in many fields, not just libraries. We had a lot of fun writing it, and even though it's a textbook, we think you'll enjoy reading it!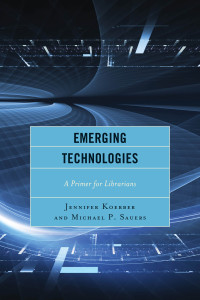 Emerging Technologies: a Primer for Librarians
Jennifer Koerber & Michael P. Sauers
Rowman & Littlefield, May 2015
Jim DelRosso of the Catherwood Library (Cornell U) gave it a review that sums up exactly what we were going for:
"Koerber and Sauers bring a vision of library technology that is engaging, refreshing, and above all, practical. Those in search of more fads to embrace or empty platitudes to quote will need to look elsewhere; this book is full of the kind of useful information and actionable advice that will not only get you excited to tackle new projects in your library, but also help those projects succeed."
If you order before Dec 31, 2015 and use the discount code on the flyer below, you'll save 25% on the cover price.