When you're trying to coordinate plans, one of the hardest things to do is to settle on a date and time. Why not use an online polling tool like Doodle to make that easier?
What Is It?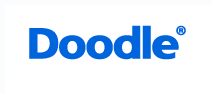 Doodle is a very simple tool that does just one thing: you quickly create a poll to let a group of people vote on a date and time for a meeting or event. That's it – nothing fancy – and that's what makes it great. In two minutes, you can set up a poll and send it out.
Once you've created the poll, send the web address to everyone who needs to vote. They visit the poll, enter their answers, and Doodle saves their responses right there for everyone to see. Participants can add a comment to give you more information, or they can just choose Yes, No, or (Yes) [Yes, if need be]. You get an email notification every time someone answers your poll, and you can change the poll if you need to add more options or update information.
How Does It Work?
First, you don't need to set up an account to create a basic poll. Just visit Doodle and click on Schedule an Event. Fill in the information about your event and enter your email address to receive notifications and to get the Administration link for updating your poll.
Next, give your poll-takers a few options to pick from. Use the Basic calendar to just suggest days, or click on Calendar view to suggest both dates and times. Offer as many choices as you can, but not so many that no one will ever agree on a single day and time. In Basic Calendar, click on the days you want to include in the poll; in Calendar view, click and drag to choose blocks of time on each day you want. Click Next.
You can stay with a basic poll or click on Settings to pick from more options. This is most useful if you want to give your participants a "Yes, if need be" choice, or force them to pick just one option.
Finally, click on Finish to complete the poll. Doodle will send you two emails: one with the link to send out to your poll-takers, and the other with the link for you to change the poll if you need to. Copy and paste the poll link into an email message and send it to everyone whose opinion you want. They'll reply, and you're on your way to a decision!
See a finished product at Doodle's example poll.
Why Is It Useful?
Like many other online tools, Doodle is most useful because you can keep everything in one location, where everyone who needs to can see everything at the same time. Similar to Anyvite, PerfectPotluck, or any of the online collaboration tools we've looked at, the best thing about Doodle is that it gets rid of the dozens of emails or phone calls you send back and forth trying to coordinate an event or a meeting or even just dinner with friends. There's less of a chance that people could agree to two different times, or miscommunicate about what day everyone chose, or get stuck with any of the misunderstandings that happen when many people try to plan together.
Doodle also lets you make other decisions with votes from your friends. After you click on Schedule an event, click on Free text instead of sticking with the Basic calendar view. You can also go to the Functions and Products page and click on Make a Choice rather than Schedule an Event. You can poll friends about what sort of party to have, poll coworkers about the best gift to buy someone who's leaving, or poll family about what to do for Mom's birthday.
Try It Out
Are you trying to agree on a day or time to make plans with friends? Put together a simple Doodle poll and send it out to them, asking them to vote on the days that work best for them. You could even use it to arrange a good night for a babysitter, a good time for a working lunch, or a good day to visit the library! Any question that could use some opinions is a good one for a poll.
Help & Resources