Continuing our theme of going deeper with online accounts, this week we'll take a brief look at Google Calendar.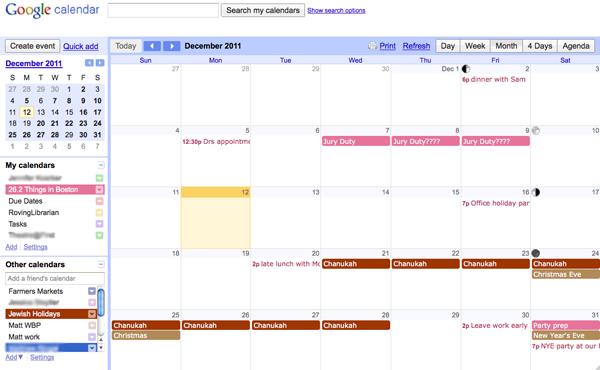 What Is It?
For starters, it's a calendar that is easy to check and edit from anywhere you can log in to your Google Account. You can see a day, a week or a month at at time, or view upcoming events as an agenda list. To add an event, you just click on the day, type in a start time and a couple of words about what you're doing, and click Create Event. If you want more details, click Edit Event and add a location, a description or more.
If you want to keep separate calendars for different things in your life – family events, volunteering jobs, consulting clients, house repair schedules – you just Add a new calendar and then choose whether to make it public, share with only invited people, or keep it private. This lets you share out calendars with the people who need to see them. Other people with Google Calendar can share theirs with you, or you can request that they share with you by typing their email address in the Add a friend's calendar box on the left.
Google Calendar lets you invite people to the events you create. If you're hosting a New Year's Eve party, set up the event in Google Calendar and then email invitations to everyone on your list. Guests click Yes, No, or Maybe (and the event will be added to their calendar if they have one) and you can easily keep track of the RSVP list. You can send emails to all invitees to remind them of the party, or last-minute changes to the menu.
You can keep a to-do list in Google Calendar using the Tasks feature. Click on a date that you need to run an errand, and click on the word Task at the top of the box that pops up. Add the information about the errand and click on Create Task. The errand appears on your calendar and on a list of tasks off to one side of the screen.
Set reminders for any event or task to pop up on your screen a few minutes or hours before the event starts or the task is due. Never miss a meeting or an appointment again.
Finally, you can add a Google Calendar app to your mobile device and get all these features wherever you are. Those reminders will pop up on your phone, or you can set a ringtone to go off whenever an event is coming up.
How Is It Useful?
Imagine how you can combine all the features mentioned above: You're hosting that New Year's Eve party for friends and family. Start by setting up the event and inviting all the guests via email. Check the RSVP list to see who's coming, and send out reminders to those last-minute folks. Add Tasks to your calendar for party preparations (buying supplies, shopping for a new outfit, meeting with your friends who are helping with set-up) and have that list on your mobile while you're out running errands. Share the Party calendar with your partner so he or she can keep track of what's going on without having to ask, and maybe even add a few tasks to their calendar. As the day gets closer, send out a note to everyone attending about how to get to your place by public transit and where the good parking choices are. That morning, check the RSVPs one final time and you'll know who to expect. Then, get a reminder 15 minutes before the first guest arrives. Success!
You can also use shared calendars to coordinate care between family members for an elderly relative, to find a good meeting date for a volunteer organization, or to stay aware of your closest family and friends' schedules. Have all that information at your fingertips wherever you are.
Try It Out
If you have a Google account already, just click on Calendar at the top of the page and start pushing some buttons. Add a few events, click on Edit Event and see what your options are. Send an invitation to someone you know well and see how that works. Add a Task or two, or add a few public calendars like holidays or Phases of the Moon. Share your calendar with others, or ask that they share theirs with you (if you know them well enough).
If you don't have a Google Account, click through the links below to see if it's useful to you.
Help & Resources