My apologies – we never went back and looked at the main Facebook Account settings after walking through the Privacy Settings. For our final April is About Accounts post, let's quickly look at Account Settings in Facebook.
Facebook Account Settings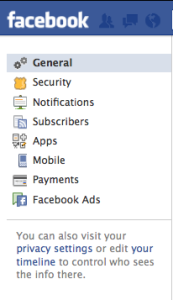 To get to the Account Settings menu, click on the little triangle near your name in the upper right corner of the screen, then choose Account Settings. The various Account Settings sections will be in a menu on the left side of the next screen.
General settings are where you would change your name, username, password, or the email associated with your Facebook account.
Security settings are for keeping your Facebook account secure from people trying to break into it. It's a good idea to read through and understand each of these options, and keep your account as secure as possible.
Notification let you turn on and off all the email or text messages you get from Facebook telling you that someone's posted to their Timeline, replied to a comment you left, sent you a message, tagged you in a post, or did anything else in Facebook. All you have to do to turn a notification on or off is click into the box next to that item. Again, take your time with this section and understand what's going on.
Subscribers receive your public posts and will not be added as friends. If you want to be a bit more public on Facebook, but keep your personal conversations more private, allowing subscribers is the way to go.
If you're using any Apps on Facebook, you can manage all the settings for them in the Apps section.
If you want to send notifications to a mobile phone, you can add your number in the Mobile section. Note: If you have a smartphone, it's probably a better idea to use the Facebook app for your smartphone.
The Payments settings allow you to pay for apps and goods & services directly through Facebook. I wouldn't recommend using this feature unless you're very comfortable with online purchasing already, so you can keep yourself safe.
At the bottom of the settings menu, you'll see the Facebook Ads section. This is a very important place to really understand what's going on. Facebook makes most of its money by selling ad space to companies – those ads over on the right side of your screen – but you can control exactly how much of your information is visible to the advertisers.
Ads by Third Parties are exactly that: ads you see from companies other than Facebook. Right now, Facebook doesn't actually share any information with these companies, but they might someday. To make sure your information isn't shared, click on Edit third party ad settings and select No One from the drop-down menu.


The Ads and Friends section lets you set whether or not Facebook can "pair your ads and friends" to let you know what your friends like. Again, unless this is a feature you really want to have turned on, you can shut it down by clicking on Edit social ads setting and choosing No One from the menu.


Help & Resources
I'm including a few of the resources from the earlier Facebook settings post, because they're just as useful for this one.