For our last bit of visual fun online, let's look at two apps that take real-world visual art and turn it into a digital treasure.
What Is It?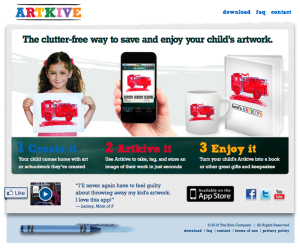 Art My Kid Made and Artkive are apps for iPhone or iPad (Android coming soon) that let you easily take a picture of a child's artwork, add information about it, and share it with friends and family. Art moves easily from the refrigerator to the world!
How Does It Work?
Both apps work the same way:
Download the app and create an account for a child
Use your iPhone or iPad to take a picture of the child's art
Add the child's name, age/grade, the date created, a title, and any additional information
Save the image to the app's cloud storage, easily accessible from anywhere in the world
Share the art via email (ArtKive) or Facebook, Twitter, & Evernote (Art My Kid Made)
There are differences, though. Art My Kid Made instantly shares images to Facebook, Twitter, or Evernote, as well as uploading to its own web page. It also has a simple photo editor that lets you add "stickers," effects, text, and crop the image to just the best bits. They also feature an "Artist of the Day" on their website and Facebook page.


ArtKive makes it easy to keep several kids' worth of art organized by their first names, and you can create a small Share Circle of email address to send the image to only the people who care most. ArtKive will also eventually let you print the artwork as a calendar, on a mug, or as a picture book!
Why Is It Useful?
If you have children in your life at all, you know that one of the hardest things to do is to organize (or get rid of) the artwork they make at school and at home. It's all precious, and an important part of their growing up. These two tools help you preserve and organize this part of kids' lives, and share the art easily with friends and family.
If you're one of those friends and family, you can use either app to help you organize art made by grandchildren, nieces & nephews, cousins, godchildren, children of close friends, students, or any other kids in your life. ArtKive, with its drop-down menu to choose the artist, makes managing multiple accounts a snap.
You can also take pictures of more than just drawings and paintings. Capture and share that A+ school assignment, the clay paperweight, an image from a school play or musical recital, or any other moment from a child's life. Check out the Facebook pages for both apps (in the list below) for more suggestions and ideas.
Help & Resources