Keeping on with our DIY theme, let's look at site for musicians, sound technicians, and vocal artists of all kinds.
What Is It?

Soundcloud is a place for anyone who has created any kind of sound to upload that audio file to share with the world.
And that's it – it's like Flickr for audio files instead of photography. Any kind of sound that can be saved digitally and uploaded can be added to Soundcloud: music, singing, sound effects, talking, symphonies, or anything else. Then, it's available for anyone to listen to and comment on, giving you feedback on how good (or not-so-good) your audio is.
How Does It Work?
If you just want to listen to the sounds already on Soundcloud, all you need to do is visit the site and search for something you might be interested in. You won't find popular music here, but you will find millions of tracks by independent DJs, sound technicians, sound effects artists, vocalists, and other sound creators.
You can search for Tracks, for People, and for Groups. Most likely, you'll be searching for tracks, and the easiest way to do that is just to type in a few words about what you're looking for into the search box at the upper right corner. You can also go to the track search page and choose from the advanced search options to be more specific.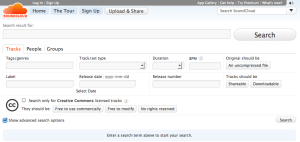 Use words to describe the style of music (instrumental, vocal, electronic, acoustic), the feeling of the music (downtempo, some number of beats per minute), or other kinds of audio (sound effects, comedy recordings, podcasts). Then click on Search and you'll get a list of track results.

On the site (not in this image), just click on the Play button to listen to the track. At different points, you'll see comments that other users have added about the music, good and bad. Then you can either search again, click on the track's creator to hear more by them, or click on one of the tags off to the right for other tracks like this one.
If you want, you can also create an account to leave comments, or even upload your own files.
How Is This Useful?
For listeners, Soundclound is a free source of all kinds of sound. It's a great way to discover DJs you enjoy and may want to see live, or for theater and filmmakers to find sound effects for their productions.
For sound creators, Soundcloud offers a free and easy-to-use way to share your work out to the world, and help bring together lots of different styles and kinds of sound art in one place.
Help & Resources
The best place to go is simply the Soundcloud help center. You can search for your questions, look at the existing questions, and even ask a support person for help.