Good morning. Over the weekend, many Facebook users were told that as of August 4th, their profile pages would be switching to the new Timeline format. Let's take a look at Timeline's features and see how you can prepare for the big switch.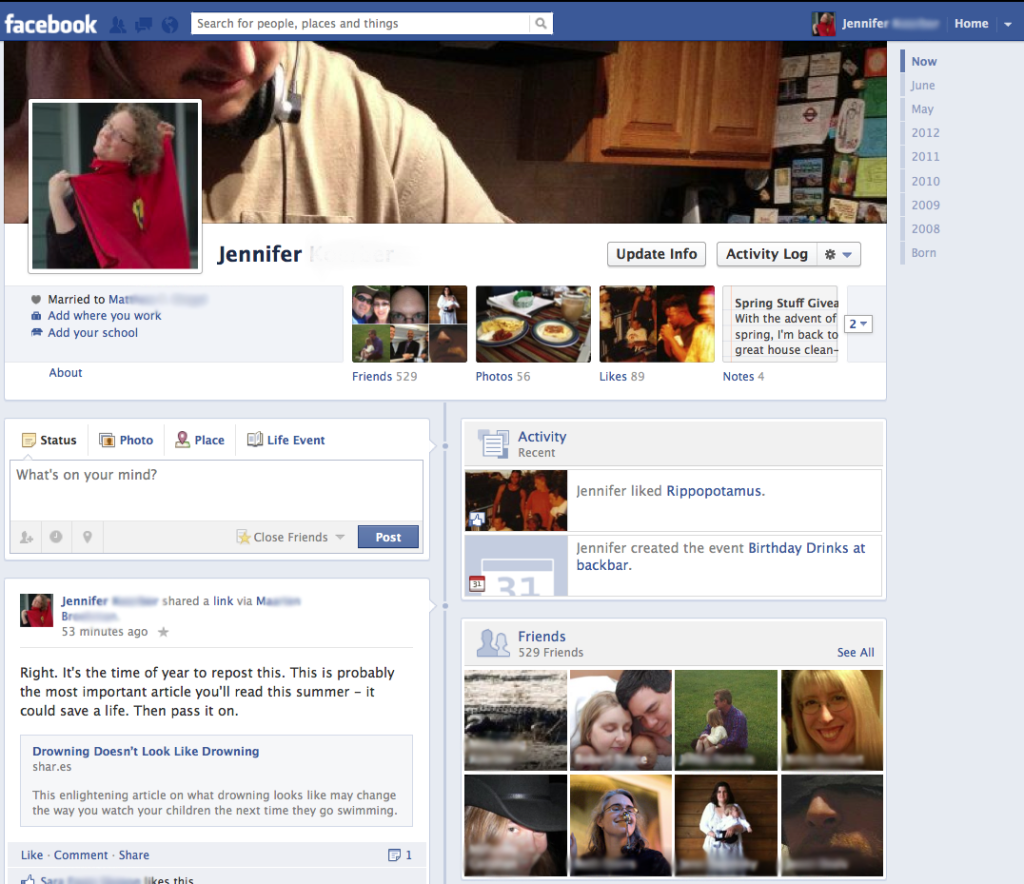 New Features in Timeline
The major updates with Timeline are a new look for your own information and your Wall and an easier way to navigate a person's history of posts in Facebook.
New layout. In Timeline, there's a Cover photo up at the top (just like on many websites), your information underneath, and then your posts down below. On a laptop or desktop computer, you'll see two columns of posts. On a mobile device (smartphone or tablet), you'll just see one. The stories scroll down the page in reverse chronological order – newest first and older as you go.

Timeline to get to older posts. One of the big problems with the old profile page is that you could only go back a few dozen posts at a time. There was no way to see what you or someone else had written last month, last year, or back when you started on Facebook. Now, there's a 'timeline' off to the upper right – just click on a year or month to look at posts from that time.

Cover photo. This image should be a large-ish, interesting picture either taken by you, of you, or is of something important to you. It's the first thing people will see when they look at your Timeline, and you can have fun with it. Later this week, we'll be adding a separate post on uploading photos to Facebook, to walk you through the process of adding a Cover photo.

New kinds of updates. From your timeline, you can add different Life Events and use Facebook as a true online documentary of your life.


A Few Facebook Tips
Change settings easily. Watch what happens when you put your cursor over things on the screen. There are a lot of settings hidden in plain sight on Facebook pages. Put your cursor over text, images, and empty boxes on the page and wait a moment – a box with an X, a small gear, or some text might appear on the right to offer you choices. Click on them to see what your choices are.

Edit link previews. When you post a link, Facebook automatically creates the link and adds an image if there is one. Remove the image by clicking the box next to No Thumbnail. Change the description by clicking on the text until it turns yellow, then delete or type until it says what you want it to.

Unfollow posts. If you're tired of getting notifications for new comments on a post you've commented on, Unfollow it. Up at the top left, click on the globe icon and put your cursor over the latest notification for that post. Click on the X that appears in the box, and then click on Unfollow.


Create lists of friends. Now you can create different lists of friends, so you can easily choose which people can see which posts. Make a "Close Friends" list for the people you know well, add your parents and cousins to "Family," and keep your "Work Friends" separate. You can also click on the list name under Friends on the left side of your News Feed page to just view posts by those people.

Why some folks don't like it
Facebook has been moving users to the new Timeline for a few months now, and many people have said they don't like it. Some don't like the layout, some think it's slow to load, some think it's just broken. Some people don't like the fact that it's easier to get to older posts, and some don't like all the 'extra work' they think the new layout makes them do.
But before you decide you don't like it, please do three things:
Really try using it. Add a life event, look back at old posts you made when you first got on Facebook, add friends to lists, quickly and easily change settings on a post. Like your parents said, "Try it before you say you hate it."
Remember that it only affects your personal page. Your news feed page will stay just the same.
See what Timeline does really well, and what your News Feed page does well. Ask yourself if it might be okay for one to work one way and the other, another?
In the comments or on the Learning for Life Online Facebook page, tell me what you think of Timeline. Good or bad – we want to know.
Help & Resources