Out in the wild world online, getting help using a particular tool is often up to you. However, using help centers, support pages, live chat, and discussion forums, there are many ways to figure out how to make things work the way you want them to. These suggestions are good for using online tools, but also for using the help resources available online for home & personal electronics, appliances, tools, and other gadgets we use.
Getting Help from a Website
Where's the link? — The link for a site's help section is usually in the upper right or lower right corner. Sometimes, it might be along the bottom edge (with links to About Us, Contact Us, etc.) or very occasionally in the regular menus at the top or left. The link to the help section is frequently near the links to the account settings, which we found last week.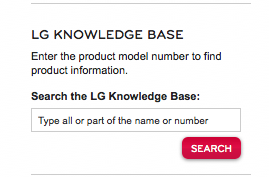 On the site's home page, take a look for links to Help, Help Center, Support, Support Center, Customer Care, Getting Started, or Frequently Asked Questions (FAQ). A site might use any of these to link to their help section. If you see the words "Knowledge Base," that's a fancy way of describing a way to search by a product name or number to find information about that one thing.
What will I find in the help section?
The first way that a website usually offers help is through a Getting Started or Setting Up Your Account page. These pages give you step-by-step instructions for creating an account, changing the settings, and learning the basics of using the site. Many sites include a video that shows you how things work in real-life.
After you've used the site for a bit, you probably have a few questions. So do many people, and websites usually have a list of Frequently Asked Questions to offer answers. As the title suggests, these are questions frequently asked about how to use a site or tool, and often include problems that users frequently run into. Each question is answered briefly, with examples or screenshots when needed, and occasionally by linking to another section.
For more complex questions, or ones that aren't asked as often, the help section will list other topics, arranged by category. These sections are often organized from signing up for an account, through using the basics, to more advanced features and troubleshooting. Work your way through the categories as you learn to use the site or tool
While you're there, take a look to see if the site offers tutorials, training or other suggestions for learning how to use a site or a real-world gadget. For examples, see Microsoft Office training and DIY videos from Home Depot and Lowe's.
In most help sections, there's a search field just for the help section. When you're searching Help, try to use the same words to describe things that the site or tool does. If you need help on Facebook Pages, type "facebook pages" into the search field. Be specific, and use just a word or two to get started.
Finally, some larger companies will offer live chat with a support person through their help pages. If you'd prefer to talk to a real person, at any point, try turning it on and asking your question. When you're using chat, you don't have to worry about misunderstanding what someone says on the phone, and you can occasionally save the chat for later.
If I Can't Answer My Question There, What Next?
Search the web, especially if you have a strange error code. Copy the error code and paste it into a search engine like Google or Bing – make sure you include the software you're using or the website you were on. Then click search. Read through the results list and look for words like answers, forum or discussion. These indicate places where people go to talk about software and technology, and often ask each other questions to get help that way. Also, look to see if anyone else has had the same problem and written about their solution somewhere, in a blog or Facebook post.
Use discussion forums to ask your question and get answers. If you're really getting stumped, look on the service or tool's website for customer discussion forums, or look for other ones online using a search. These forums are places where users get to ask questions, search to see if someone else has already asked their question, and hopefully get some useful answers. Take a look at any of the Google product forums or Apple product communities for an idea of how these work.
If you have a blog or a Facebook account, post your question where other people can see it. Again, other people might have had the same problem and might have found a solution for it. You never know until you ask, right?
Help & Resources
Manage My Life – a neat whole-life help resource from Sears
Lifehacker often has great articles on using various online tools
cNet is another good source of software and gadget help
We can't list help pages for everything here, but take a look at these to see what might be available through the help center on your website or tool: