Facebook Timeline
Note: We've moved the short look at Timeline that was here to a later post, with more details and suggestions. Check it out!
Facebook Settings
That said, with Timeline and other new features Facebook has developed, it's more important than ever to understand the security and privacy settings on your account. So let's walk through some of these settings and explain what they mean. We can't cover every single setting, but we can look at the most important ones.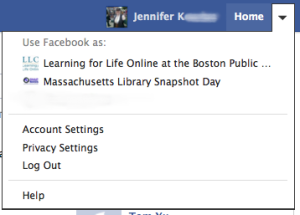 Up in the upper right hand corner of every Facebook screen, you'll see your name, the word "Home" and a triangle pointing downward. That triangle means that there are more menu choices. Click the triangle and you'll see options for Account Settings, Privacy Settings, and the links to Log Out and get Help. [My account has a few extras, for Pages that I manage for other groups.] We're going to skip Account Settings for the moment and look at Privacy.
Privacy Settings. When you click on Privacy Settings, you'll see a page that starts by reminding you that you can set the privacy level for every single post you make on Facebook. This is good to remember – you get to choose whether something you post is only visible to Friends, to a list you've created, or to the Public. Underneath that, you can set a default setting for all posts; I'd recommend by limiting everything to Friends to start with.
Underneath that are the more specific settings that you can control. Next to each one, click on Edit Settings to see what you can change. For most of these settings, you can choose to let different things (posts, tags, etc.) be visible to No One (but yourself) or Only Me, to your Friends, to all the Friends of your Friends, or let it be Public. I suggest you work your way slowly through the How You Connect and Timeline and Tagging settings, because they're pretty easy to make decisions about.
Next are probably the most important settings to understand. The Apps, Games and Websites or Apps and Websites settings control what kind of information that sites and apps other than Facebook itself can see and use about you. These are called third-party apps and they include any app created by some company other than Facebook. Most of the games and 'fun stuff' in Facebook are actually these third-party apps, and you want to make sure that you only let them see the bare minimum of information needed to use them. A game doesn't need to know your hometown and an app for the Washington Post doesn't need to know what your address is.
Click on the Edit Settings link for Apps, (Games) and Websites and READ THE WHOLE PAGE that comes up before you click anything. Then, if you don't use any games or other apps in Facebook, you should Turn off all apps. Once you click Turn off apps, many of the words on this page will turn grey and the settings will say, "This is disabled because you turned off all apps." That's good – this makes your information as secure as it can get. Nothing has access to it unless you permit it.
You might find that when you click on links that other people share, it asks you to let that app do something. THINK CAREFULLY before you click Yes. See the example of a Social Reader app that wants to know an awful lot about me before it will let me read an article someone posted. Do you really want to let this app work, and give it access some of your information? If you're okay with that, go ahead and click yes. You can always change your mind later by visiting the Apps section of your Account Settings and blocking specific ones.
The last two Privacy Settings sections let you make your past posts more or less public (now that it's easier to see them using Timeline), and to manage Blocked People and Apps. This is another good section to spend some time with, so you can stop getting those game invitations and friend requests from people you don't care about. You can also add people to a Restricted List, so they can only ever see your public posts. You don't need to unfriend them, but you can limit what they can see of yours.
[Note: This post has gotten very long – we'll cover Account Settings in another post later this week. Take your time with the Privacy Settings for now.]
What's the Big Deal?
So, why do all these apps want access to your information? Because they are businesses, and they are trying to make money by analyzing you and figuring out what you might want to buy from them. Yes, it's all about advertising and selling information and stuff. We'll talk more about this later on this month, but for now, just remember that any time you use a tool for free on the internet, it's because You are the product being bought by advertisers and other companies.
Yes, there are a lot of settings you can change to manage your privacy in Facebook. It seems overwhelming, but it's really a good thing. You get to keep as much control as possible over what information about you is shared on this social network, with and without your knowing it.
As always, the best way to learn about something is to play with it: take your time, read everything on the screen, and make sure you get help when you need it. For the rest of this month, we'll look at other types of settings you should find and understand in all of your online accounts. If you have a Facebook account, start with learning these, and next week we'll look at more places to keep yourself safer online.
Help & Resources